The Amplify full spectrum sauna gives you maximum physical benefits and time savings at an affordable price. Here's what you'll experience with an Amplify 2 person sauna:
The Amplify II delivers what its name promises because of the unique full spectrum heater mix. Two heater types work together. Sunlighten's patented SoloCarbon far infrared heaters send the high quality and high quantity infrared wavelengths for maximum cellular absorption, halogen heaters push the air temp up to 165 degrees F, all with Sunlighten's proprietary design that produces virtually no EMFs.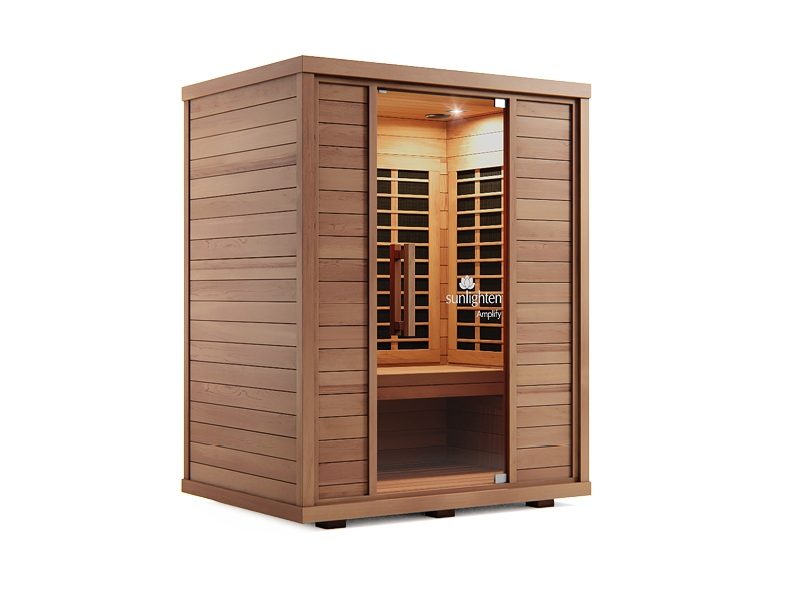 Product Specifications
EXTERIOR

Width: 50.9"

Depth: 45.9"

Height: 77.7" Includes 2" Feet

Door Opening: 28"

WEIGHT

Basswood: 456 lbs.

Eucalyptus: 541 lbs.

HEATER

4 FIR
2 Full Spectrum (500W each)
*No floor heaters

INTERIOR

Width: 45.4"

Depth: 39.9"

Height: 70.3"

ELECTRICAL

120V 1880W 15.67A NEMA 5-20 Dedicated 120V 20A circuit and outlet required

BENCH

Width: 45.2"

Depth: 20.2"

Height from Floor: 19.5"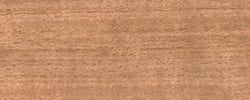 Eucalyptus
Ultra Premium Appearance
Longevity and Durability
Sustainable/Green/Renewable
Care is taken to ensure consistency on each sauna but there can be slight variations in the color, grain, and texture of each wood compared to what is seen on our website. 
The Amplify II
The Amplify II two-person sauna fits an active, busy lifestyle and attitude. It maximizes your sauna time. You'll feel like your session is productive because inside your cabin the higher heat produces a noticeable sweat with 165-degree temps. You'll know your time was well spent because Sunlighten's unique SoloCarbon far infrared is clinically proven to penetrate deeper to increase core body temperature. Extend your workout benefits while you recover. Remove the bench to do sit ups, crunches or stretches while the infrared waves penetrate deep, fast and meaningfully to detoxify your body, increase circulation, aid muscle recovery and help relieve pain. Built-in chromotherapy adds another layer of light therapy for energetic balance and mental wellbeing. And, set up and assembly are no sweat using Sunlighten's Magne-Seal locking system. It's an investment in your present and long-term well-being. Amplify II makes it count.
GET PRICING

Other Products in This Family
Take your fitness to the next level with the extra heat in this full spectrum cabin designed for one person to lay down or for two people to maximize the sweat together, efficiently and affordably.
Dimensions
Exterior W: 62.3"
Exterior D: 45.9"
Exterior H: 77.7"
Be Inspired
3 min read
First Timers Guide to Sitting in a Sauna
What to expect and how to prep so that your mind and body get benefits long after you've stepped out of the sauna.