Product Documentation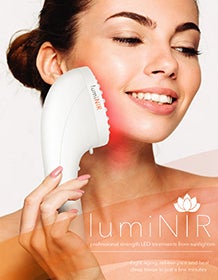 Product Documentation
Frequently Asked Questions
When should I use the goggles included with my lumiNIR?
You should use the included goggles any time the wand might make accidental contact with your eyes. This may include, for example, when you are doing a treatment above the neck, or around the facial area.
How does my wand charge?
The lumiNIR wand uses a standard Micro USB charging cable. This can be combined with a wall plug attachment similar to that used by many mobile devices.
Only one of the lights on my head attachment is activating
The lumiNIR has multiple head attachments that each serve different functions and provide different benefits. To differentiate each head, the pattern of illumination of their lights is different for each attachment. lumiNIR has a single red light in the center, lumiGLOW illuminates all of its lights in red, lumiCLEAR is entirely lit in blue, and lumiSPORT has alternating red and clear LEDs.
Sunlighten is at your service.
Support Hours:
9:00 am – 5:00 pm (AEST) Monday - Friday
10:00 am - 2:00 pm (AEST) Saturday