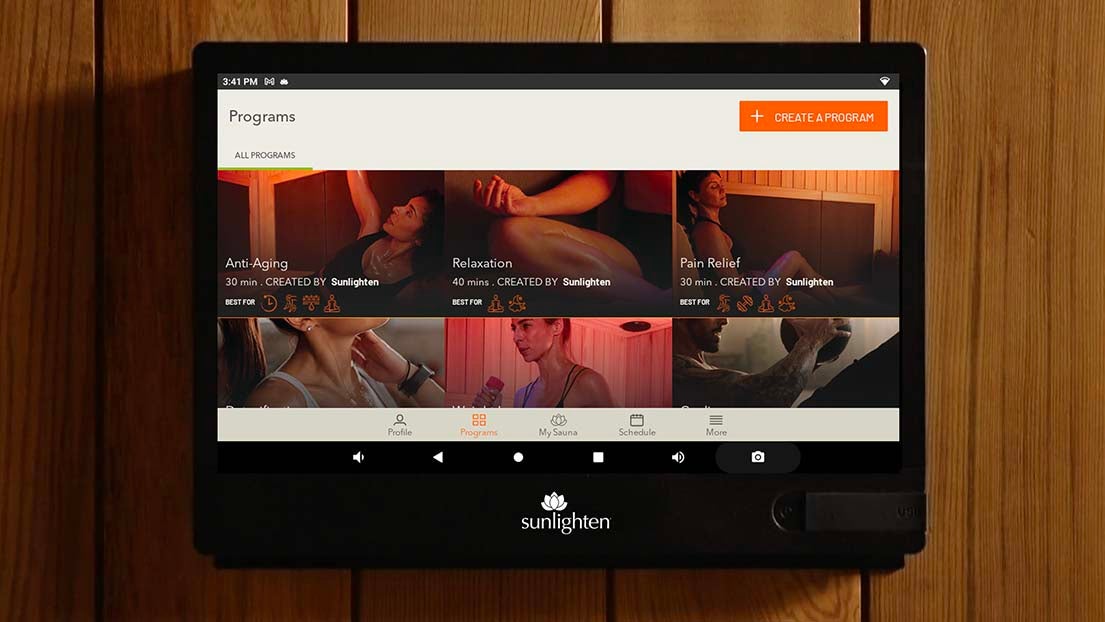 Pre-set Wellness Programs
You can get a deep detoxification or a relaxing respite at the touch of a button. Because of Sunlighten's patented 3 in 1® heater technology, you get customized health programs using each of red light/near, mid and far infrared wavelengths. Research has shown that each of these wavelengths has different benefits, the data from which we used to create each program. So the hard work is done for you. 
You're also in control if you want to be. The Control Pad allows you to create and save your own customized program on your profile, adjusting the RED/NIR, MIR and FIR wavelengths in each of the heaters.  
Features
My Profile
By adding your basic health information to your profile, you will be able to track your data based on your sauna use for future customisation. Add as many different user profiles as you want. 
Set Your Schedule
Schedule mode also allows for multiple users to schedule sessions so that the sauna is ready when you need it. Create different schedules for each user in the household. 
Customise Your Own Program
Near, mid and far infrared waves provide the utmost personalisation. Choose to customise a session's infrared output to the setting that best accomplishes your wellness goals. 
See What's Happening
During a program, a dashboard shows you what wavelengths are emitting during your session, and allows you to monitor time and temperature. It makes what's invisible, "visible."

In-Sauna Entertainment exclusively in mPulse collection
This is your place for "me time." It's our smallest cabin with the biggest wellness impact providing six pre-programmed, clinically researched combinations of red light/near, mid and far infrared only available in mPulse saunas.
Dimensions
Exterior W: 1,108 mm
Exterior D: 1,056 mm
Exterior H: 2,000 mm
*Sunlighten can't guarantee integration of all third-party apps due to updates and new versions.