Living Through Pain
Watch William's video testimonial here.
My life was what you would consider "normal." I was a young adult living in California with two jobs, two dream jobs. I worked as a ski and snowboard instructor during winter and early spring, and during the winter and fall I was a Mojave Green Wildland Firefighter with the U.S. Forest Service. Life was full speed ahead, until April of 1997. I injured my right knee at work as a ski instructor. I had knee surgeries to repair the damaged parts in my knee, but I could not return to my work.
I went through workers' compensation and learned new skills. I chose computer technology and graphic design. I loved it! I became a teacher with the same program and taught others who were injured at their jobs. All the while, I was in pain. I had one last knee surgery to release some scar tissue that was limiting my range of motion. The surgeon told my wife that something was wrong with my kneecap, that it was soft and folded easy. Like a virus was attacking my body. Little did we know, that was the start of my CRPS.
My family and I moved to Kansas City in 2005, to start a new job. My pain started to increase. I had no idea where this pain was coming from. It was not radiating from where I had my injury. It got so bad that sometimes even the fan blowing the hair on my legs caused excruciating pain. It was not until 2006, did I get a diagnosis of CRPS. I was still able to work and further my education with Google certifications. I became involved with the Google Top Contributor program and learned as much as possible. Life moved forward. I had a spinal cord stimulator implanted to help with my pain, but it did not work. So, they moved the leads down; still did not work. I had three surgeries on my back all related to a spinal cord stimulator. Hindsight is 20/20 - these surgeries were a mistake.
CRPS hit me like a ton of bricks, and I was unable to work in an office. I worked remotely and did consulting work. I started falling due to severe pain and needed to walk with a cane. People looked at me differently. To them, I was broken. It was not until my pain doctor wanted me to use a walker and said I was not allowed to drive, did I start to take control of my life. That was my personal turning point.
I was not about to use a walker. That is when I began treatments at Advanced Sports & Family Chiropractor & Acupuncture once a week. I started to walk short distances, to the light post at the end of the street and back, then two blocks and back. I slowly increased my distances and titrated off of all my pain medications, which was insanely hard. I stayed on two muscle relaxers to help with the muscle spasms and added supplements like Turmeric, Vitamin B Complex and large doses of Vitamin C.
Once I was off the pain medication, I was able to drive again and took my daughter to work on the weekends. I would park the car and go walk around. I got involved with the Google Local Guide Program and began mapping the area. In the beginning, I could barely walk 1,000 steps a day. Eventually, I was up to 10,000 steps and beyond. This led to a new sense of accomplishment and self-worth. Before long, I was ready to reenter the workforce.
See my full story at www.livingthroughthepain.com.
What is CRPS?
Complex Regional Pain Syndrome is a rare condition characterized as one of the most severe levels of pain – 42 out of a possible 50 on the McGill University Pain Scale.
There are fewer than 200,000 USA cases per year with treatments that can help, but the condition cannot be cured at this point.
The exact cause of CRPS and RSD is not well understood by the medical industry. However, more research has been done in recent years to help those that suffer from this disability live a more comfortable life with the use of medication, along with other treatments such as nerve blocks, spinal cord stimulators, and other therapies.
CRPS, formerly known as RSD, is a progressive disease of the Autonomic Nervous System, and more specifically, the Sympathetic Nervous System. The pain is characterized as constant, extremely intense, and out of proportion to the original injury. The pain is typically accompanied by swelling, skin changes, extreme sensitivity, and can often be debilitating. It usually affects one or more of the four limbs but can occur in any part of the body and in over 70% of the victims, it spreads to additional areas.
How Sunlighten Infrared Therapy Helped to Calm My Severe Pain Flare-Ups
What does the pain feel like for me? Imagine you hit your finger with a hammer and consider that pain throughout your entire body 24/7. That is the pain I have lived with for more than 20 years. Now, I have a drug-free, all-natural treatment for pain relief.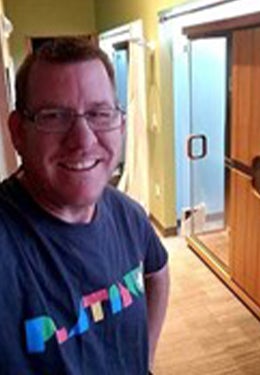 In 2017, I joined the Sunlighten team. Every employee is encouraged to use the saunas in the Sunlight Day Spa, so I tried out the mPulse® 3 in 1® infrared sauna. Before my first session, I was in pain, but after this one session, my pain had calmed. I went back again a few days later and confirmed that when I was in the middle of a pain flare, the infrared saunas helped calm them.
I created a routine and used the sauna three times a week. Normally, I sit and relax with meditation music and focused on my breathing.
Since Sunlighten's Day Spa has the spacious mPulse 3 in 1 Conquer, I was able to do some stretching of my shoulders, knees and back. The mPulse has preset programs to customize each session including one for pain relief. The Pain Relief program controls the sequence pattern of infrared light mixing mid and far infrared at different times for the best exposure to reduce inflammation and increase blood circulation.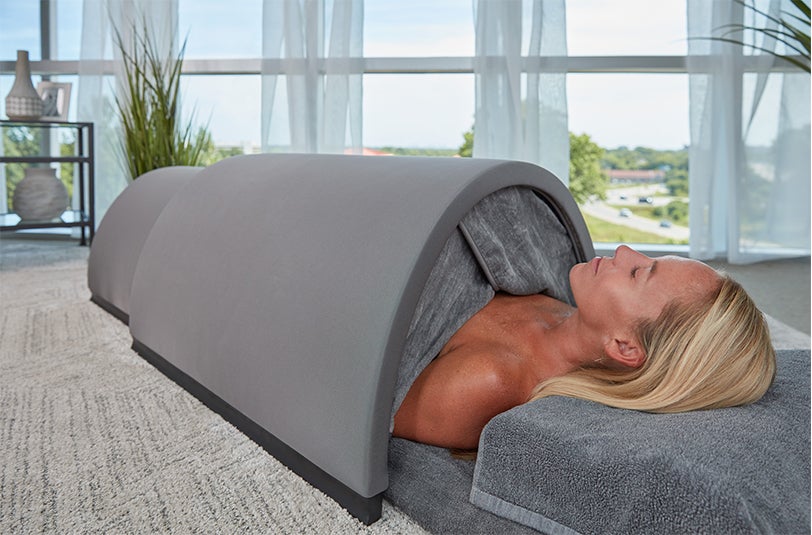 The Solo® System: My Space-Saving Solution for Home Sauna Treatments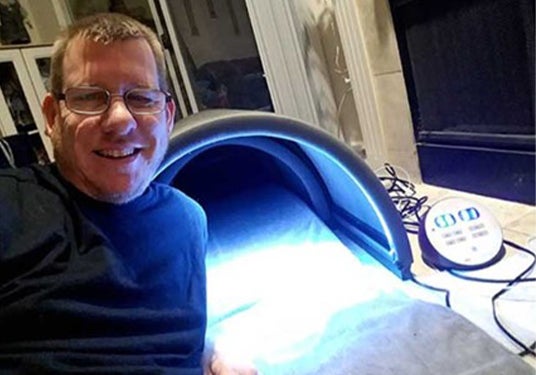 I live in an apartment, so space is limited. Sunlighten has a far infrared portable Solo System with 365 degrees of far infrared. The owners of the company knew about my condition and were kind enough to give me one for home regular use.
During the winter months, the cold feels like it is reaching my bones. When I lay in the Solo System, I am warmed from the inside out and my pain flares are calmed.
I still have my pain flare-ups, especially in the evenings. I am blessed to have such an awesome support system from my family and friends during some very challenging years.
Find Your Personal Pain Relief
For years, doctors have recommended Sunlighten saunas because of proven relief from sports injury, chronic fatigue syndrome, fibromyalgia, arthritis, and other chronic pain conditions.
Sunlighten's patented SoloCarbon® far infrared therapy delivers health benefits such as: reduced blood pressure, weight loss and detoxification. Infrared rays help the body naturally reduce pain and inflammation by penetrating joints, muscles and tissues. Many people, when in pain, want to be warm. SoloCarbon technology is proven to raise the core body temperature by at least 3 degrees. This not only warms the body but also helps calm the nerves, which reduces pain.
Sunlighten has multiple options that can help with relieving pain:
Pain should not be a way of life. Using a Sunlighten sauna regularly has helped me to reclaim my life and live with less pain. 
NERVEmber: Stay Strong. There Is Hope.
Every month, people are walking, fundraising, or creating ribbons for something. November is no different. November for some is deemed NERVEmber or GoORANGE for CRPS Awareness. The NEVREmber movement was started by Barby Ingle in 2009. NERVEmber is about RSD/CRPS/Nerve Pain/Neuropathy awareness and its many faces. There are hundreds of disorders and diseases that cause nerve pain, and many of them, doctors are still just scratching the surface with how to control the pain.
For many, there is no calming their pain, only monthly trips to their pain doctors for prescriptions of pain medications and muscle relaxants. Pain can take complete control over someone's life and turn it upside down.