What makes the mPulse Smart Sauna truly special is its ability to harness the power of technology to optimize your self-care and well-being. We've taken all the incredible benefits of infrared sauna therapy and combined them with the convenience and intelligence of a smart appliance. Let's delve deeper into four things that set the mPulse Smart Sauna apart from any other sauna on the market. 
Smart Control Panel for Precision Performance 
Imagine having a control panel that acts as the brain of your sauna, directing the heaters to deliver the perfect dosage of light energy for your specific needs. That's exactly what the mPulse Smart Sauna offers. The advanced control panel ensures that you receive the optimal blend of infrared wavelengths through pre-set programs. These programs have been meticulously designed based on extensive research, incorporating 50+ data points from 37 studies on how infrared interacts with the body. With the mPulse Smart Sauna, you can trust that you're getting the most effective therapy for your health goals. 
Health Programs to Support Your Goals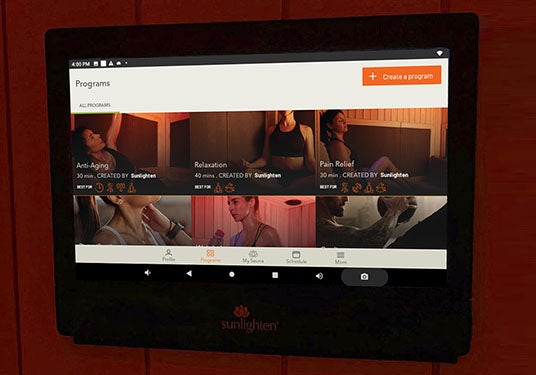 We understand that everyone has unique wellness goals. That's why the mPulse Smart Sauna provides you with six carefully crafted health programs to choose from. Whether you're seeking relaxation, detoxification, pain relief, anti-aging, weight loss, or cardiovascular health, we've got you covered. Our programs have been developed based on scientific evidence, ensuring that you receive the precise infrared wavelengths needed to achieve the desired benefits. It's like having a personal wellness coach guiding you towards optimal health. 
Customizable Experience for Personalized Results 
One size doesn't fit all when it comes to sauna therapy. We believe in empowering you to customize your experience and tailor it to your preferences. With the mPulse Smart Sauna, you have the freedom to choose from the pre-set health programs or design your own programs that align with your unique wellness journey. You can also set your schedule according to your availability and make the mPulse Smart Sauna seamlessly integrate into your daily routine. Multiple users create their own user profile and the Smart Sauna remembers. It's all about personalization and creating a sauna experience that works best for you. 
Convenience of Phone-Driven Access 
The one-of-a-kind mobile app allows you to communicate with your sauna from the palm of your hand. For iPhone users, the app connects with the sauna tablet control panels (on Android 10) to select programs, create custom programs, schedule sauna sessions into your routine, control lighting and sound. And this is only the beginning! Features around the corner include notifications, exclusive sauna content, biometrics, milestone tracking, and so much more! Coming soon for Android users.
Embrace the Future of Self-Care with the mPulse Smart Sauna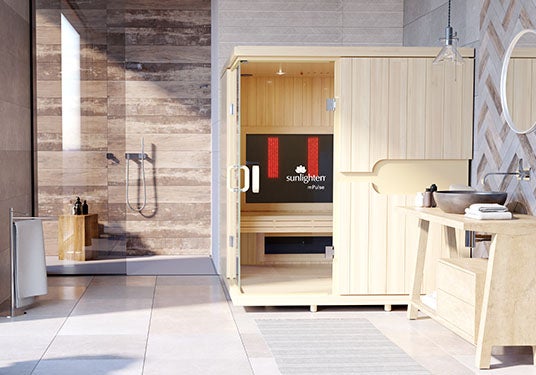 By combining the healing power of infrared therapy with cutting-edge smart technology, the mPulse Smart Sauna offers you a level of convenience and effectiveness that is truly unmatched. Imagine effortlessly managing your sauna sessions, tracking your progress, and achieving your wellness goals. That's the magic of the mPulse Smart Sauna. 
Investing in a smart sauna is investing in your well-being. Experience the ultimate synergy of technology and self-care with the mPulse Smart Sauna. Discover the power of smart living and unlock a new level of wellness that will leave you feeling rejuvenated, revitalized, and ready to embrace life to the fullest. 
Take control of your self-care journey today with the mPulse Smart Sauna. Your health and well-being deserve it. 
Disclaimer: The information provided in this blog is for educational purposes only and should not be considered medical advice. Please consult with a healthcare professional before starting any sauna therapy or wellness program.