Tiffiny, you are a recent and much-loved friend of Sunlighten. Tell us, how have you started incorporating your sauna into your daily routine?
Firstly, thank you for having me. The first thing I would say is that — on big filming days when I have a lot of exercise videos to get through — I love to recover in the Sunlighten infrared sauna. In winter, it's wonderful to sauna and take the time to relax, too, listen to a meditation, podcast or even watch Netflix in there. 
I've integrated infrared sauna therapy into my week, about two or three sessions to really see the benefits of improved immunity, pain management, recovery and muscle health. Be it to recover or relax, I know that I'm doing my body a lot of good to not only help healing but also in prevention. 
You have been using your Sunlighten infrared sauna for a few months now, have you started noticing an impact on your fitness/recovery?
Absolutely. I recently had a knee operation and the recovery has been faster than my previous experiences. I'm also finding that I'm recovering better after training and I'm definitely sleeping much better and more deeply at night. A deep sleep has been one of the best benefits. I'm waking up feeling so refreshed and energised!
What are some of the things you do to rest and recover after an intense training session?
I have four non-negotiables to rest and recover after an intense training session. They are: 
Foam rolling for manual soft tissue release
A cold plunge in my pool to kickstart recovery
Stretching and mobility exercises, and 
A Sunlighten infrared sauna 
That's great to hear! What are some of the common mistakes you see people make when it comes to recovery after fitness or training sessions?
The most common mistake I see people make when it comes to their recovery is that they don't take it as seriously as they take their workout. The recovery is as, if not more, important than the workout itself because it sets you up for the next one and consolidates all your hard work through muscle repair, strengthening and cell rejuvenation. Recover hard and you can workout hard. 
What are some of the things that you do each week to ensure you prioritise your health and feel your best?
The top five things I do each week to prioritise my health and feeling great are: exercise daily, indulge in great coffee, Sunlighten infrared sauna, meditate and eat a high protein diet. Basically, I like to schedule my Sunlighten infrared sauna recovery sessions into my week, just like I schedule my training sessions.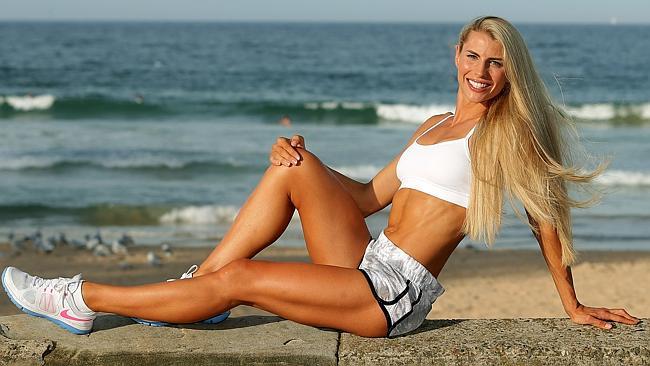 Could you share a few of the benefits you've noticed from your regular infrared sauna sessions?
My Sunlighten infrared sauna has become my little sanctuary. I can't wait for my sauna time. I love that it's not only a fantastic recovery tool to aid muscle recovery, DOMS and reduce inflammation, but it also helps me to wind down, destress and relax. 
Over the years, I've had my fair share of injuries; wrist reconstructions, knee reconstructions, and most recently, another knee operation. So, I love also using my infrared sauna for pain management. Whilst my injuries are improving, they do require management and the natural pain relief I get from my infrared sauna helps to decrease joint pain and body aches. 
In winter, the sauna is my armour against getting sick. I've found that it has improved my overall immune defence by stimulating my circulatory system more. The more blood circulates, the more toxins flow from the cellular level to the skin's surface to improve cell health. I truly believe that I have not been sick all winter due to Sunlighten! 
Lastly, I love the benefits it has had on my skin, not just my face but all over my body. We all want that healthy glow, and I've really noticed that my infrared sauna has helped to restore my skin and stimulate collagen production to improve overall skin tone. I love knowing that the far infrared wavelengths target deeper down, removing toxins that can have a negative impact on my skin. Going into my sauna is like getting a facial! I love that I can receive multiple benefits from my infrared sauna all at once. 
We couldn't have said it better ourselves. Thank you so much for sharing that! Before you go, we'd love to know what is inspiring you right now? What are you reading, watching and listening to?
I'm really inspired by 'Arnold', the Arnold Schwarzenegger documentary on Netflix. I'm loving it — and not just because he shares the same name as my son! 
I'm also super inspired by all the women in my TXO community who are so committed to being the best version of themselves. I love seeing my members and clients succeed on their wellness journeys. And of course, I love to kick back in my sauna and listen to a TXO meditation, which really helps to improve focus and to clear the mind. 
Are you ready to join Tiffiny, and thousands of others, experiencing the therapeutic embrace of infrared saunas? To learn more about the benefits of Sunlighten's infrared sauna for your health and wellbeing, visit our website or enjoy a range of articles on wellness, the power of detox and post-workout recovery on the Sunlighten blog.