The Amplify range combines Sunlighten's patented SoloCarbon heating technology with additional Halogen heaters that create hotter ambient air to get you hotter faster and deliver the Full Spectrum of Infrared light. This world-leading heating technology provides you with the highest quality and quantity of infrared energy available for clinically proven health benefits, including detoxification, immunity and heart health.
Exclusive to Sunlighten, the Amplify range gives you direct control over your infrared heat experience. If you seek high and intense heat, simply press the 'FS button' to set and maintain the intensity and heat output of the two front heaters. On the other hand, if you would prefer to enjoy the therapeutic benefits of infrared light therapy in a mild heat environment, you can leave the front heaters 'off' for a more relaxing and restorative experience.
Sweat deep, sweat fast and enjoy the benefits of Sunlighten's full spectrum infrared therapy.
When you invest in your health, you want to relax, enjoy, feel safe, and be confident about your decision. Amplify owners stay ahead of their game, sweat more, and recover quicker with the intense experience the Amplify full spectrum sauna provides. You'll sweat faster and receive Sunlighten's proven most-effective far infrared therapy for maximum physical benefits and time savings at an affordable price. 
Sunlighten's patented SoloCarbon infrared heating technology defines us. It puts the 'sun' in Sunlighten saunas…without the UV. To stimulate health benefits, saunas need a source to emit high concentrations of peak infrared waves—not just heat. That's why Sunlighten collaborated with chemistry expert Dr. Ronald Lewarchik to develop our patented coating, designed to create a highly emissive surface. This first-of-its-kind heater changed the industry. 
The result: a unique finish that maximises the highest quality and quantity of infrared available—SoloCarbon coating. It's on all our sauna heaters.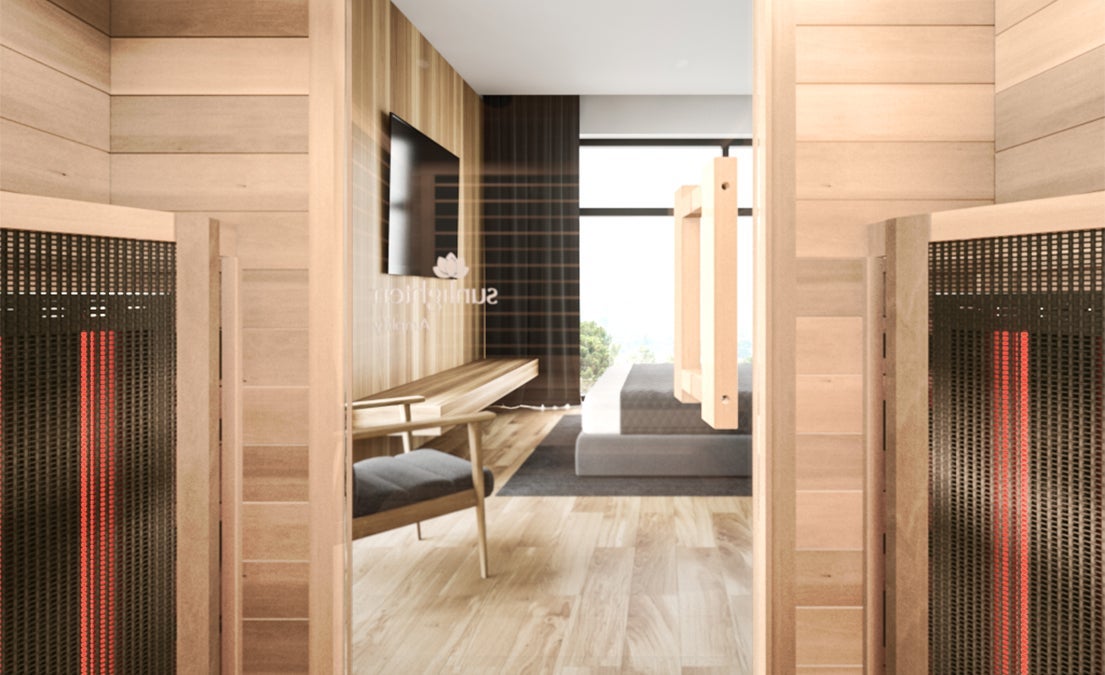 What You Need to Know About Amplify Full Spectrum Infrared Saunas
SoloCarbon® Coating + Additional Heaters
CLINICALLY PROVEN NEAR PERFECT FAR INFRARED PLUS MORE HEAT
To deliver health benefits like heart health and detoxification, infrared heaters must emit high concentrations of the best infrared waves, optimised for the human body to absorb. Sunlighten innovated an industry-game-changer we call SoloCarbon: a special coating that maximises the highest quality and quantity of infrared available. Independent testing proves it is 99 per cent effective. In Amplify, we have amped up the heat factor with additional halogen heaters to get it hotter faster. 
Chromotherapy
BUILT-IN COLOUR THERAPY
Every Sunlighten sauna comes with built-in chromotherapy to enhance your sauna experience and transform your mental wellbeing even further. Chromotherapy paints your sauna with colours from the sun's visible light spectrum to align with different body energy points, creating an artful atmosphere with a balance-bringing effect.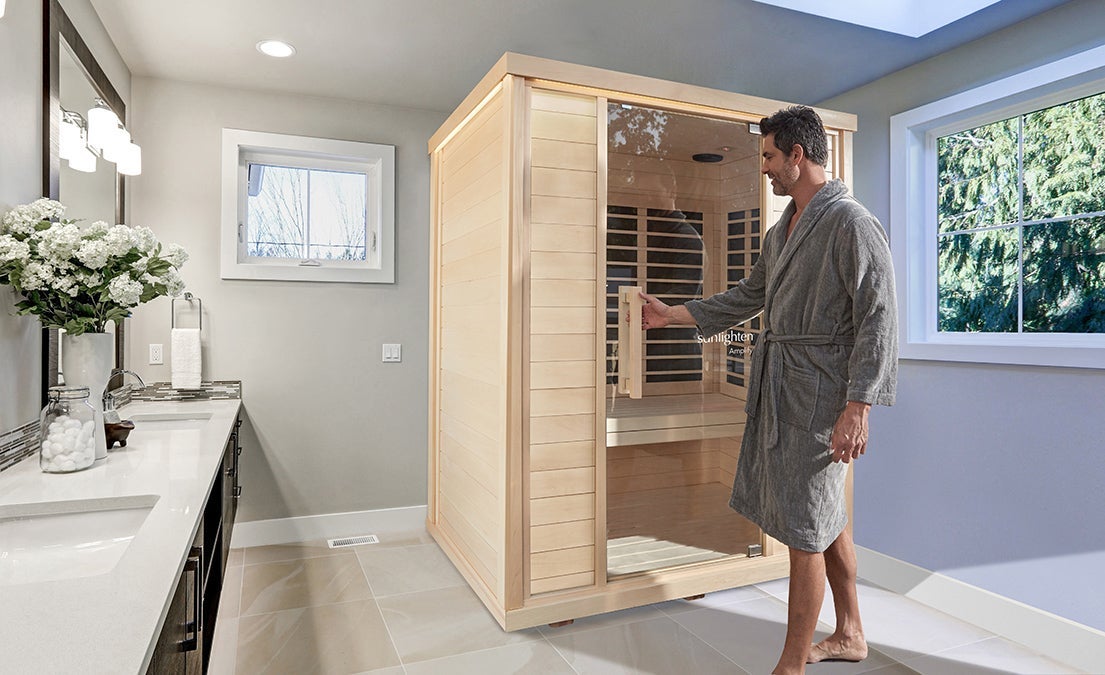 How do you know which Sunlighten Infrared Sauna is right for you? 
Choosing a Sunlighten infrared sauna to add to your wellness routine means looking at your lifestyle and your health goals to find the sauna that will be the best fit. Whether it's relaxation you're craving or deep detoxification, Sunlighten infrared saunas will help you achieve your wellness desires. From weight loss to muscle recovery and skin rejuvenation, Sunlighten's patented infrared technology will restore your body and your mind.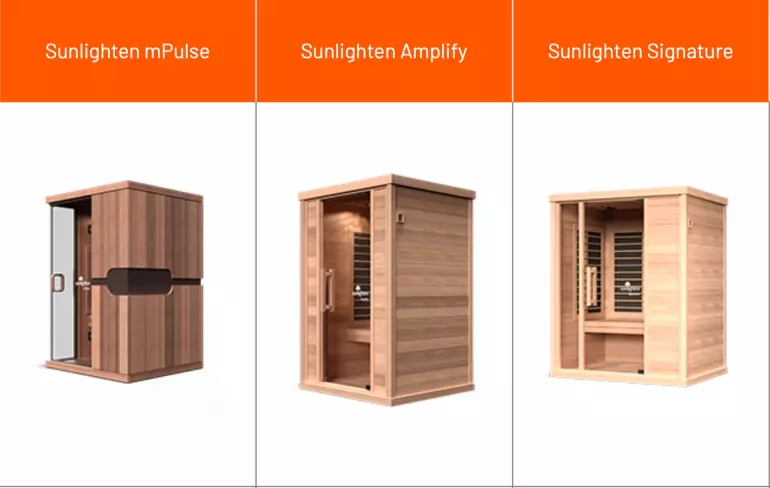 Amplify Full Spectrum Infrared Sauna
TAKE YOUR SAUNA SESSION TO THE NEXT LEVEL
You'll sweat deep, sweat fast and feel productive in an Amplify full spectrum sauna. Get the maximum physical benefits of Sunlighten's proven most-effective full spectrum infrared therapy quicker and in a more intense, hotter heat amplified by halogen heaters at a reasonable price.
mPulse 3 in 1 Infrared Sauna
CUSTOMISABLE NEAR, MID & FAR IR SAUNA
Take control of your wellbeing in Sunlighten's premier, patented 3 in 1 full spectrum infrared sauna. It's the world's first and only sauna that delivers three unique wavelengths and empowers you to customise each wavelength to optimise the specific health benefit you want. An all-encompassing full body wellness sanctuary, mPulse gives you everything: stunning design, quality craftsmanship, attention to every detail, and superior safety. Even more, customised wellness lives at your fingertips with this incredibly smart sauna that you can tailor to your health goals. No other sauna in the world can do that.
Signature Far Infrared Sauna
MOST EFFECTIVE FAR INFRARED SAUNA
For simplicity and superior far infrared, give yourself a Sunlighten Signature home sauna. In your peaceful sanctuary, enjoy a deep cellular detox and support your overall wellness at the push of a button. The Signature offers affordability and our perfected SoloCarbon® heating technology delivers the highest quality and quantity of far infrared heat. The moment you step into your Signature, it's a place to destress your mind while using gentle far infrared heat to boost your immune system, improve circulation and naturally detoxify your body. 
To learn more about Sunlighten's range of Infrared Saunas and to keep updated on health benefits and wellness trends, subscribe to our YouTube and Spotify accounts or visit the Sunlighten website.