Build your connection to your sauna so you can…
…relax, de-stress, detoxify, relieve pain, and accomplish your goals for your health and well-being. 
Watch this video for some examples of how Sunlighten Smart Sauna owners use the mobile app.
Control your sauna from your smartphone
Download the Sunlighten App and pair it to your sauna for the ultimate convenience.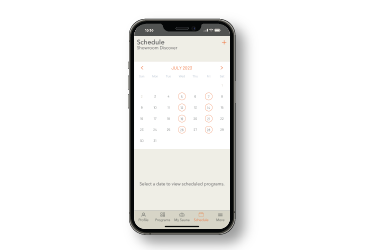 1. Pre-schedule your sessions.
Use the calendar to schedule your sauna sessions and build a routine.
Control audio in Signature & Amplify saunas.
Signature, Amplify and Solo Rise sauna owners with Bluetooth receivers for audio, and sound therapy, can use the Sunlighten mobile app to control the audio content and volume. For those that purchased the sound therapy add-on, the app also controls sound therapy intensity. 
Be Inspired
3 min read
First Timers Guide to Sitting in a Sauna
What to expect and how to prep so that your mind and body get benefits long after you've stepped out of the sauna.