Sunlighten offers three saunas that all emit far infrared. The Solo® System, Signature®, Amplify, and mPulse 3 in 1® collections. Far infrared significantly quickens the detoxification process by raising the body's core temperature and absorbing infrared rays at a deep cellular level causing cells to vibrate. Sunlighten's patented heating technology is the only sauna heater clinically shown to raise core body temperature by two to three degrees vs. simply heating the air around the body.
If you do not sweat, do not worry. Most people, after their sauna sessions have a very healthy glow about them. This is still sweat, and your body is actively detoxing. Make sure to drink plenty of water to assist your body with removing the heavy metals through urine. Learn more about sweat in an infrared sauna here.
We love hearing from our customers about the results they have experienced from regular Sunlighten sauna sessions. Our team was ecstatic when fitness and nutrition expert, Betty Rocker, shared her heavy metal testing with us. The comparison of heavy metals before and after getting her Sunlighten sauna are amazing!   
"To actively aid my training recovery process and decompress, I had been using hot saunas and infrared saunas for years and loving how good I felt after. But it wasn't until a blood test revealed how high my mercury levels were that I got really serious about the benefits of infrared light and decided I might be able to use it to help heal myself.

High levels of elements like lead, mercury, cadmium, tin, and others can be toxic to your immune, nervous, reproductive, and digestive systems – and add stress to your body's filtration organs, namely the liver and kidneys. I'm not sure why my levels were so high, like other elements they can enter our system through soil, air or water emissions.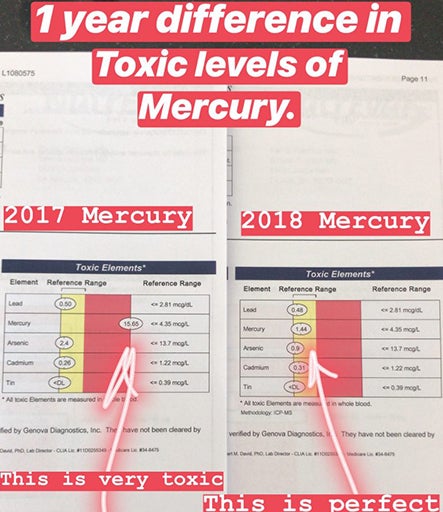 After getting this alarming data from my test, I decided to get serious and invest in a Sunlighten infrared sauna. I chose Sunlighten because they came highly recommended as one of the top-quality infrared saunas on the market.

So I was really excited when I decided to get my very own Sunlighten sauna because a lot of the awesome places that I've traveled to around the world have had this brand, had Sunlighten saunas. That's because they're really well known as one of the top-quality infrared saunas that exist on the market today. They have a lot of great options. I love the different sizes they have, and I really like the variety of settings that you can just automatically use that come with the sauna. For example, there's a detox setting, a relaxation setting, a cardio setting, a weight loss setting, and you can program your own setting and just run it manually as well.

I really didn't have any high expectations about how my body would respond with regards to the mercury, I just knew it could help over time – and there were other health benefits that I wanted to explore as well, like increased collagen production, decreased stress, deep, cellular repair, improved flexibility and more.

I truly was amazed when my 2018 tests came back and my mercury levels had dropped from 15.65 to 1.44." - The Betty Rocker, Certified Fitness Nutrition Practitioner